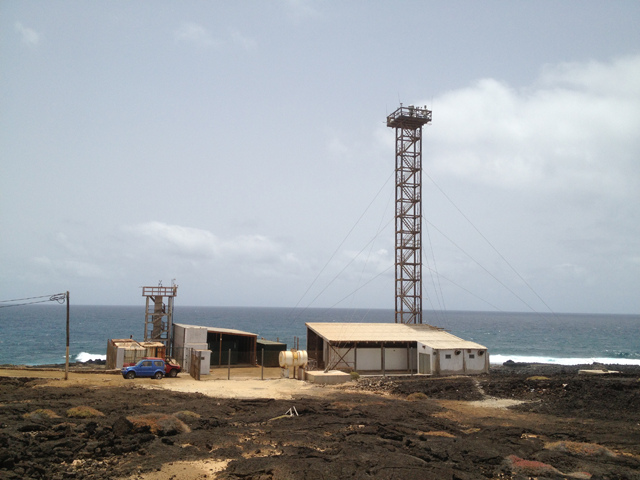 Cape Verde Atmospheric Observatory (CVAO)
The Cape Verde Atmospheric Observatory (CVAO) situated at 16° 51′ 49'' N, 24° 52′ 02'' W, is part of a bilateral UK-German initiative to undertake long-term ground- and ocean-based observations in the tropical North Atlantic Ocean region. There is a long-term global outlook in the provision of key atmospheric measurements representative of the wider remote marine atmosphere, which are important for understanding changes in atmospheric composition and climate. These long-term measurements help to advance understanding of climatically significant interactions between the atmosphere and ocean and provide a regional focal point and long-term data context for field campaigns.
The CVAO is a World Meteorological Organisation-Global Atmospheric Watch (WMO-GAW) global station and quality-assured atmospheric data for use by the wider international community are regularly deposited at the international WMO-GAW archives (WDCGG and WDCRG) and at the UK Centre for Environmental Data Analysis (CEDA) data archives. The measurements are traceable to international calibration scales. The University of York provides the CVAO trace gas measurements, supported by the Natural Environmental Research Council (NERC) through the National Centre for Atmospheric Science (NCAS) Atmospheric Measurement & Observation Facility (AMOF). The Max-Planck-Institut für Biogeochemie, Jena, Germany (MPIB Jena) are responsible for additional greenhouse gas measurements, and the Leibniz-Institut für Troposphärenforschung, Leipzig, Germany (TROPOS) measure various characteristics of aerosol. Collaboration is also with the Instituto Nacional de Meteorologia e Geofísica, São Vicente (INMG), who provide logistical support and employ staff at the CVAO. The sister ocean site is a partnership of the Instituto Nacional de Desenvolvimento das Pescas, São Vicente (INDP), and the Leibniz-Institut für Meereswissenschaften, Kiel, Germany (IfM-GEOMAR Kiel). Scientific activities at both sites are coordinated in collaboration with the above institutions.
Measurements of O3, CO, NO, NO2, VOCs and meteorology began at the site in October 2006 with aerosol and greenhouse gas measurements added shortly after. Other key measurements including those of halocarbons, SO2, and TGM, have been added over time and many more measurements have been made as part of field campaigns. The site has gained a reputation as a high-quality international facility providing vital data to the global atmospheric communities.
News: Cape Verde Atmospheric Observatory turns Ten
Observatory operational status: instrument by instrument break down of instrument performance.
The gas-phase instruments at this site measure the following species
O3
CO
CH4
CO2
C2-C8 hydrocarbons
C1-C3 oxygenated hydrocarbons
NO
NO2
Halocarbons
SO2
In addition, there are measurements of
Surface wind speed and direction
 Surface temperature
 Surface humidity
 Surface pressure
 Precipitation
 Solar actinic flux
 Solar radiation
Latitude
Longitude
Altitude
Distance from mean tide line
The Cape Verde Atmospheric Observatory is located at Calhau on a NW facing sandy beach on Sao Vicente, adjacent to the ocean, with the prevailing trade winds blowing directly off the ocean. There are no obvious major coastal features such as extensive shallows or large seaweed beds. Such a site offers a rare opportunity for ground-based studies of clean marine air, free from local coastal macrophyte interferences. The site is 'downwind' of an area of high primary productivity (the Mauritanian upwelling). Year round average temperatures are between 26° and 30° C, with uninterrupted sunshine from November to May and a sporadic rainy season between the months of August and October. The winds can get quite strong all year round and during December-January the island can be influenced by dust originating from the Sahara.
For a complete seasonal assessment of influences see: Seasonal characteristics of tropical marine boundary layer air measured at the Cape Verde Atmospheric Observatory L.J. Carpenter et al. , J. Atmos. Chem. DOI 10.1007/s10874-011-9206-1, 2010.
The site consists of containerised laboratories for running instrumentation, a 30m tower for mounting instrumentation and inlets, and a 7.5m tower. The site has a mains supply of electricity and dual generator back up. There is a large suite of core instrumentation for which data is available. There are a shower and toilet on site. The site is locked and secure with security guards during nights and weekends.
Infrastructure
The site consists of 4 containerised laboratories (1 for chemical aerosol, 1 for physical aerosol measurements, 1 for trace gas measurements, 1 for greenhouse gases), a 30m tower, and a 7.5m tower.
There is limited space on the top of the 30m tower for the large kit but there are lots of options for mounting smaller kit on the towers.
There is some space in the air-conditioned laboratories for rack-mounted and freestanding instruments.
There is plenty of space on the site for additional sea containers and additional generators.
There will be extra space in a container from December 2014 although this can only be air-conditioned if additional generators are provided to increase the power availability. There will also be an additional 10m tower.
Power
Power is limited at the site. There is likely only 5KW of power available in total for additional users.
Single-phase 240V/50Hz power outlets are available in the container laboratory and UPS power may be available on request.
Additional generators could be accommodated easily on-site.
Please contact the Instrument Scientist for more detail.
Power would be charged for and the costs are as follows:

0.5 euro / kWh for outside instrument
1 euro / kWh for the instrument inside one of the air-conditioned labs
Services
Clean lab space and fume cabinets are available at the Instituto Nacional de Desenvolvimento das Pescas (INDP) in Mindelo (20min drive away).
There is a fridge space available for short-term storage of samples.
Commercial flights (TAP Portugal) are available to the island of Sao Vicente via Lisbon from all major UK airports.
A visa is needed to enter the country and this can be obtained for €25 on arrival at passport control.
It is possible to stay in Mindelo (25 mins from the CVAO) or closer to the site.
Please contact Gisela Duarte and she will advise on different accommodation options. Gisela can also book car hire.
For site access please contact Luis Neves.
Travel/medical insurance and general working insurance should be provided by a user's individual institutions.
CVAO Address:
The Cape Verde Atmospheric Observatory
Calhau,
Sao Vicente,
Cape Verde.
Nearest local contact point, name, address and telephone number:
Luis Neves
Rua 13,
N489,
Ribeira Bote
Sao Vicente
Cape Verde
(00 238) 9816115
Departmental Organisation:
INMG: Instituto Nacional de Meteorologia e Geofisca (Bruno Faria)
Delegocao SW Sao Vicente Monte
CP 15 Mindelo
Cape Verde
(00 238) 232 1370
Nature of the Site: Coastal/Shoreline
Climate: Desert/arid/Tropical
Be Aware:
The area is politically stable.
The drinking water may not be potable (when on tank supply) so take care.
There is no particular disease prevalence.
No vaccinations are needed.
Emergency services in the country are satisfactory.
Hospitals in the immediate area meet European standards.
Address and telephone number of the nearest British Embassy / Consulate office:
British Honorary Consul
Shell Cabo Verde Sarl
Av Amilcar Cabral CP4
Sao Vicente
Telephone: (00 238) 232 2830
Facsimile: (00 238) 232 66 29
antonio.a.canuto@scv.sims.com
Hospital:
The site is 25 minutes from Mindelo where the nearest medical (and all other) facilities are located:
Hospital: Southeast part of Mindelo (00 238) 232 7355 / 231 1879
Pharmacy: Top of Rua Libertadores d/Africa
Health and Safety Onsite
The site manager Luis Mendes must be made aware of all visits to the site (see above for contact details).
Working at the site
The user must attend an "introduction to the site" briefing given by Luis Neves.
The user must prepare their own risk assessment and work plan. A template is provided for this.
Sensible "walking" type shoes are recommended as the ground is very uneven.
If working outside then hardwearing working clothes are recommended. The environment is very dusty and dirty.
Hard hats should be worn when working on the container roof or towers.
If working outside:
Wear sunscreen at all times.
Drink lots of water.
Wear hard hat when working on the roof.
Only trained personnel to climb the 10m tower and the harness must always be used.
Specific dangers
30m Tower: See specific protocol but no more than three people to climb at any one time. Not to be climbed during wind speeds of greater than 15 m/s.
Ocean: The site is situated 10m from the ocean. Strong currents and rocks are present-no swimming at this point.
Emergency Provision
There should be at least one first aider on-site at all times.
Lone working is not allowed except under extreme circumstances. Luis Neves should be informed as to who is on-site at all times.
A mobile phone is always available and there is always access to a vehicle.
General Risk Assessment
In addition to individual risk assessments please consider that during the rainy season (August to October) flooding of the road to the site can occur very quickly (within a few hours of heavy rain) which can cut off the access. During these months it is not advisable to work at the site if it is raining. Please make arrangements to leave the site quickly if it rains.
The most foreseeable accidents arising from the field activities (excluding a road traffic accident to or from the site) are:

Tripping on the lava rock
Sunburn/sunstroke
Dehydration

The likely nature and severity of the injury envisaged are:

Worst case, infection of wounds or broken limbs
Sunburn/sunstroke
First aid supplies are available on site.
Consumables
If bringing in additional instrumentation then all consumables and tools for that instrumentation should be provided.
Costs
Instrument Insurance

The user must have comprehensive insurance for any kit they bring.

Public Liability Insurance

The AMOF is not liable for any damage or injury arising from the deployment or operation of this instrument when unattended by the instrument scientists.

Deployment

To deploy a mobile laboratory with independent power (i.e. user-provided generator) there will be a monthly charge of €2000. This fee covers site manager support, Internet usage, any wear and tear of the site, etc.
To deploy additional instruments at the site the costs are as follows:

 Power

0.5 euro / kWh for outside instrument
1 euro / kWh for the instrument inside one of the air-conditioned labs

Use of Observatory personnel
Shipping
The user is liable for all costs arising from the shipping of any instruments both to and from Cape Verde.
Our partners at INMG can arrange customs clearance once it is on the island of São Vicente. The cost for this is a flat fee of €100 for each shipment which includes transport to the site in addition to any associated customs or duty costs.
Sao Vicente is one of ten islands in the Cape Verde archipelago; please make sure that you specify the island of Sao Vicente when arranging shipping to Cape Verde!
Instrumentation can be air freighted to the island of Sao Vicente or shipped by sea in a shipping container.
The shipping address is:
Gisela Duarte (CVAO)
Instituto Nacional de Meteorologia e Geofisca
Delegação de S. Vicente
Monte, CP 15
Mindelo
Sao Vicente
Cape Verde
Air freighting
Equipment can be easily transported from any international airport to the international airport in Sao Vicente using any forwarding agent. This takes about a week but allow 2 weeks.
If you are shipping hazardous equipment then you need to follow the appropriate dangerous goods procedures.
There is a DHL depot on the island but this is not necessarily a faster route.
Sea freighting
This can be in the form of a part container shipment or a full container shipment. Routes typically go via the Canary Islands where they can meet delays. You should allow a minimum of 5 weeks for shipping by sea.
In both cases the user is liable for all costs arising from the shipping of any instruments both to and from Cape Verde. Once the instrumentation is on the island of Sao Vicente our partners at Instituto Nacional de Meteorologia e Geofisica (INMG) can arrange customs clearance (INMG are entitled to a reduced tax) and transport to the Cape Verde Atmospheric Observatory. Documentation about the shipment is required to include a proforma invoice, packing list and declaration to enable quick release of equipment (typically 2 days but allow 1 week for customs clearance). The cost for this process is a flat fee of €100 for each shipment in addition to any associated customs or duty costs.
Gisela Duarte (CVAO administrator) and Luis Neves (trace gas and aerosol manager) should be informed of all potential shipping and copied on correspondence with the shipping agents.
Contact details
Gisela Duarte: giseladuarte-INMG@sapo.cv
Luis Neves: lsmn500@york.ac.uk
All visitors to the site must contact the site manager Luis Neves in the first instance.
The site is locked when there is no one there but keys are available from the site manager if regular access is needed. Access to individual container laboratories and storage containers is also restricted.
Security guards are employed between 6pm – 8am daily and at weekends.
Lone working is not recommended.
There are no user configurable instruments at this observatory.