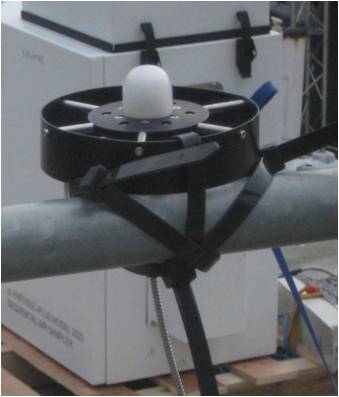 Spectral Radiometer
The Cape Verde Spectro Radiometer provides a direct measurement of solar UV flux with subsequent use of this data to determine photolysis frequencies. The instrument consists of a 2-pi sr quartz diffuser coupled to an Ocean Optics spectrometer via a 10m fibre optic cable.
The spectrometer operates between 200 – 1000nm; it is calibrated 250 – 750nm (< 1nm resolution). It utilises a Hamamatsu, back-thinned FFT-CCD detector with >90% quantum efficiency at 700nm. It has an integration time between 8 ms to 15 minutes and fully automated data collection using Spectrasuite software.
The QE65000 features a Hamamatsu back-thinned detector with a 2-D arrangement of pixels (1044 horizontal x 64 vertical) that is responsive from 200-1100 nm. The detector's columns are binned, or summed, inside the detector prior to the readout process, thereby minimizing readout noise. Additionally, the detector can be cooled down to –15 ºC with the onboard TE-Cooler to reduce dark noise. The reduction of noise and dark signal allows integration times of the spectrometer (analogous to the shutter speed of a camera) of up to 15 minutes, which greatly enhances the detection limit in low-light level applications. The back-illuminated detector has great response in the UV.
The combination of the spectrometer's low-noise detector and 16-bit A/D Converter delivers a dynamic range of 25000:1 and a signal-to-noise ratio of 1000:1.
The QE65000's onboard module has 10 user-programmable digital I/O lines for interfacing to other equipment; and a pulse generator for triggering other devices. You can use the I/Os to flash a lamp, stop/start a process, and send a message/alarm during the spectrometer's integration period. The spectrometer's operating parameters can be controlled through software. In fact, wavelength calibration coefficients unique to each spectrometer are programmed into a memory chip right on the spectrometer.
The QE65000's high-speed electronics have been designed for considerable flexibility in connecting to various modules and external interfaces, including PCs, PLCs and other embedded controllers, through USB 2.0 or RS-232 communications. Its USB 2.0 interface enables full spectral scans into memory every 7 milliseconds.
The QE65000 operates via USB interface. A +5 VDC external power supply is required for the TE Cooler (TEC) and to operate the spectrometer via an RS-232 interface. This power supply is included with your spectrometer.
The instrument is calibrated directly approximately every 6 months against a 1000 Watt (FEL) quartz-halogen tungsten coiled-coil filament lamp Standard of Spectral Irradiance (OL FEL-A) supplied by Gooch and Housego and bears the designation F-1128.
Calibration of Standard F-1128 was performed by direct comparison to a Gooch and Housego NIST traceable FEL 1000-Watt lamp Standard of Spectral Irradiance, S/N: F-1002.
Calibrated over the range 250 – 750nm.
Field Data
The instrument produces a range of out files and all are text format.
The user can download (but not delete) this data from the instrument but it should be noted that this data will not have been quality controlled.
Archive Data
Data is provided in NetCDF files following the AMOF data standard
Files contain no more than 24hr of data.
Instrument name is

ncas-spectral-radiometer-2

The data product(s) associated with this instrument:
Example data file