Enquiries
barbara.brooks@ncas.ac.uk
Apply Now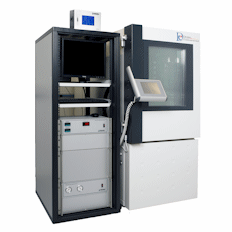 Pressure Temperature Humidity Calibration Laboratory (PTUCal)
The PTUCal Laboratory is situated in the AMOF Laboratories at the University of Leeds.
Pressure calibration is performed by comparison with a Paroscientific Model 745 portable pressure standard.
The temperature and humidity part of the laboratory is centered around a Michell Instrument HG-10 RELATIVE HUMIDITY CALIBRATION SYSTEM
HG-10 RELATIVE HUMIDITY CALIBRATION SYSTEM
The HG-10 is a completely automatic temperature and humidity calibration system, which can be used to calibrate humidity sensors over a wide range of temperatures and humidities.
PC control allows start, end values, ramp speeds and dwell times to be selected, following which the system automatically tracks the desired humidity/temperature profile and records the measured and reference values.
Dew-Point Generator – HG10

PC control interface, control & logging software, complete system integration,
range 1 to 95%rh, temp. -10 to +50C (-40 to 90C dp)

Temperature Test Chamber

Temperature Test Chamber – 110 litre size (630hx400wx350mmd)

Dry Air Generation – PSD2

Pressure Swing Dryer, -80C dp nominal

S8000 Remote – High Performance Precision Dew Point Meter

A high precision cooled mirror dew point meter for the measurement of dew point temperatures over the range -40 to +90°Cdp.
The instrument offers the flexibility of a remote sensor that can provide accurate measurements in-situ in the area of interest or in an industrial process.
Measurement Performance

Range -40 to +90°C dp
Accuracy ± 0.1°C for dew point and temperature
Repeatability ± 0.05°C
Measurement units °C or °F dew point and temperature; %RH ; gm/m3; g/kg; ppmv; ppmw(SF6)
The full specifications:  HG10-97158-UK-Datasheet-V3
Being based in the AMOF laboratories in Leeds allows us to offer extensive bench space, power, and data infrastructure options.
The temperature and humidity test chamber has a working volume of
Arriving
On arrival, please go directly to the Fairbairn House's main entrance. Use the intercom system to dial the extension number for the person you are visiting (phone numbers are listed in the glass panel to your right).
If you have any problems please contact Dr Barbara Brooks on 0113 343 3574.
Location on Campus
The PTUCal Laboratory in the AMOF labs in Fairbairn House.
Getting to Campus
Directions to Leeds University.
Parking at the university is very limited. There are several pay-and-display car parks available. If you need to park, it's probably best to contact your host.
The instrument scientist must be made aware of all visits to the PTUCal Laboratory.
The user must attend an introduction to the PTUCal Laboratory briefing, given by instrument scientist.
The user must prepare their own risk assessment and work plan. A template is provided for this.
Emergency Provision
There should be at least one first aider on-site at all times
A phone is always available and there is always access to a vehicle.
First aid supplies are available on site.
Any user owned instruments needing delivery should be shipped to the following address
AMOF – PTUCal Laboratory
Fairbairn House
71-75 Clarendon Road
Leeds
LS2 9PH
UK
Mark all items for the attention of Dr Barbara Brooks
Consumables
If bringing in additional instrumentation then all consumables and tools for that instrumentation should be provided.
Costs
Access charge

NERC grants: £20.00 per day (09:00 – 17:00, Mon – Fri).
All other circumstances please contact Dr Barbara Brooks.

Instrument Insurance

The user must have comprehensive insurance for any kit they bring

Public Liability Insurance

The AMOF is not liable for any damage or injury arising from the deployment or operation of this instrument when unattended by the instrument scientists.

Power

For equipment that uses more than 3kW/hr a rate per kWhr will be charged. Please contact the Instrument scientist for more details.

Gas Consumption

The PTUCal Laboratory has no gas handling capabilities.

Use of AMOF Personnel

There will be a cost for this. Please contact the Instrument scientist for more details.
Shipping
The user is liable for all costs arising from the shipping of any instruments both to and from the PTUCal Laboratory.