Apply Now
Instrument Support Level 3
Instrument Support Level
Instrument Support Level 3
Manufacturer & Model
Michell Instruments HG-10 RELATIVE HUMIDITY CALIBRATION SYSTEM
Daily Facility Charge
Not Applicable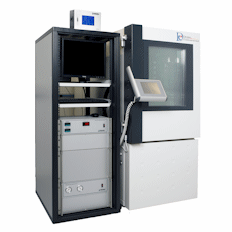 Temperature and Humidity Calibration Chamber
The Michell HG10 Humidity Calibration System is a highly flexible computer-controlled automatic calibration system for humidity sensors. The HG10 is capable of repeatable generation of temperature and relative humidity set points over the range 1 to 95% RH (-50 to +50°Cdp (-58 to +122°Fdp)) at temperatures of +20 to +50°C (+68 to +122°F) with excellent stability. The supplied chilled mirror reference instrument provides traceability directly to national standards and makes the system suitable for use in high-level calibration laboratories
The HG10 comprises three main components, the humidity generator, test chamber, and reference hygrometer.
Humidity Generator

The humidity generator used in the HG10 is based on the volumetric mixing of dry and wet gases, giving the fastest response when changing between set points in comparison to other dew-point generation technologies such as two-temperature, two-pressure or the combination of two-temperature and two-pressure. The mixing is automated using high-precision mass flow controllers to accurately control the ratio of wet to dry air, generating the required relative humidity. A dry gas source is fed to the generator from a pressure swing dryer and split into two streams. One stream is bubbled through liquid water via a sintered glass nozzle ensuring it is completely saturated with water vapor, while the other stream remains dry. The two gas streams are then mixed at atmospheric pressure to generate the target humidity level. The entire enclosure is insulated and temperature controlled ensuring saturation, and therefore the output is always consistent. The generated sample gas is passed directly to the hygrometers under test using a heated sample line. Three clear digital displays on the front panel of the generator indicate the generator temperature, heat traced sample line temperature and relative humidity set point.

Test Chamber

The standard HG10 chamber has internal dimensions of 550 x 550 x 320mm (21.6 x 21.6 x 12.6″), (h x w x d) and can be controlled and operated at temperatures from -10 to +50°C (+14 to +122°F).

Reference Hygrometer

No calibration has validity unless it provides traceability to a recognized national standard. For this reason, the HG10 includes an S8000 Remote Precision Chilled MirrorHygrometer for precise monitoring of the generated humidity. The S8000 Remote is calibrated in our UKASlaboratory, providing direct traceability to the UK national standard held by the National Physical Laboratory. Michell Instruments also maintains a traceable path directly to the NIST Humidity Standard in Washington, USA.
The chamber and humidity generator are serviced as and when needed.
Data from instruments that are part of a laboratory do not archive their data to CEDA and so do not have to conform to any AMOF standard.
Data can be provided for the period of time that the user has accessed the facility.