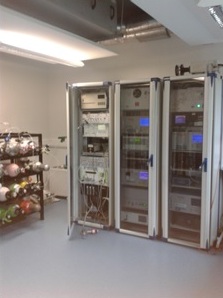 COZI Laboratory
The COZI Laboratory is situated in the Wolfson Atmospheric Chemistry Laboratory (WACL) at the University of York.
The laboratory houses instruments which are internationally recognised and calibrated to international scales, meeting Global Atmospheric Watch (GAW) data quality objectives.
Features of the COZI Laboratory include:
Permanent sampling manifold with access points for instruments to run alongside the core set-up
Teflon chamber for chamber experiments of trace gases
Thermo Environmental 49C UV photometric Ozone analyser (fast response, low detection limits)
Aero-laser GmbH AL5001 VUV Carbon monoxide analyser (low detection limit, high resolution, fast response)
A NIST referenced Thermo Scientific 49i-PS Ozone calibrator
A 2b NIST referenced ozone calibrator
NIST Carbon monoxide calibration standard
Working CO calibration standards referenced to NOAA over a range of concentrations and containing different matrices.
NPL-certified NO calibration standards (GAW standard) and working standards
Dew Point generator for humidity testing
Dry (-40degCdp) clean (scrubbed for ozone, co, nox, voc) compressed air supply
Pressure and laboratory temperature measurements
We invite users to run, test and calibrate their new and old atmospheric instruments in our comprehensive setup. The aim is to ensure excellent national and international traceability for the measurements of ozone, carbon monoxide, and nitrogen oxides.
Infrastructure
The COZI Laboratory has bench and rack space for visiting instruments
It is a stable temperature-controlled (18C) air-conditioned environment
There are access points to a common sampling manifold
Clean (scrubbed for ozone, carbon monoxide, NOx, VOCs) and dry (-40degCdp) compressed air supply
Connections to Helium, N5, N6 Nitrogen, CO2 in Argon, oxygen permanent gas supplies (gas consumption will be charged for)
Facility for data logging using a laptop equipped with Daqfactory software
Meteorological data for interpreting atmospheric measurements
There is a Teflon chamber for chamber experiments of trace gases with controllable temperature from-2 to 40 °C, controllable humidity 35 % to 80 % RH and a volume > 1500 litres
Power
Single-phase 240V/50Hz power outlets are available in the COZI Laboratory
Three-phase power may also be available to power shipping containers that can be located outside
Costs will be incurred for large power usage
For an instrument or container that uses more than 3kW/hr 20p per kW/hr will be charged
Additional generators could be accommodated easily on site
Please contact the Instrument Scientist for more detail
Arriving
On arrival, please go directly to the WACL main entrance. Use the intercom system to dial the extension number for the person you are visiting (phone numbers are listed in the glass panel to your right).
If you have any problems please contact Jenny Hudson on 01904 322609.
Location on Campus
The COZI Laboratory is located across the road from the main chemistry department behind the Chemistry Hub and the Plasma Institute.
Getting to Campus
Parking at the university is very limited. There are several pay-and-display car parks available. If you need to park, it's probably best to contact your host.
The instrument scientist must be made aware of all visits to the COZI Laboratory.
The user must attend an introduction to the COZI Laboratory briefing, given by instrument scientist.
The user must prepare their own risk assessment and work plan. A template is provided for this.
Emergency Provision
There should be at least one first aider on-site at all times.
A phone is always available and there is always access to a vehicle.
First aid supplies are available on site.
Any user owned instruments needing delivery should be shipped to the following address
COZI Laboratory at WACL
Department of Chemistry
University of York
York
YO10 5DQ
UK
Mark all items for the attention of Dr Katie Read
Consumables
If bringing in additional instrumentation then all consumables and tools for that instrumentation should be provided. Gases could be provided at a cost.
Costs
Access charge

NERC grants: £40.00 per day (09:00 – 17:00, Mon – Fri).
All other circumstances please contact Dr Katie Read.

Instrument Insurance

The user must have comprehensive insurance for any kit they bring.

Public Liability Insurance

The AMOF is not liable for any damage or injury arising from the deployment or operation of this instrument when unattended by the instrument scientists.

Power

For equipment that uses more than 3kW/hr a rate of 20p per kWhr will be charged. Please contact Instrument scientist for more details.

Gas Consumption

If COZI Laboratory supplied gases are to be used they will be charged for. Please contact Instrument scientist for more details.

Use of AMOF Personnel

There will be a cost for this. Please contact Instrument scientist for more details.
Shipping
The user is liable for all costs arising from the shipping of any instruments both to and from the COZI Laboratory.