Apply Now
Instrument Support Level 2
Instrument Support Level
Instrument Support Level 2
Manufacturer & Model
Bespoke
CEDA Archive Name
Not Applicable
Data Products
Not Applicable
Insurance Value
£90,000
Physical Dimensions
See page for details
Shipping
See page for details
Daily Facility Charge
£30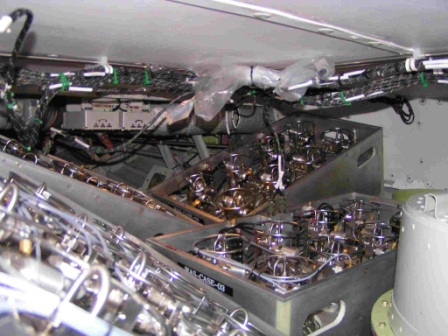 Aircraft WAS
The Whole Air Sample (SWAS) system consists of a number of silica-passivated stainless steel canisters (Entech Instruments, US) housed in 19" rack-mount cases and fitted to a double aircraft rack. Samples are drawn from a dedicated sampling port and pressurised into the canisters to a maximum pressure of 40 psi using an all-stainless steel assembly double-headed bellows pump (Senior Aerospace, USA).
The acquisition of samples is software controlled and can be filled at regularly spaced time-intervals or at selected times in response to changing meteorological or chemical conditions (*targeting plumes etc) which are monitored using some of the real-time on-board measurements.
Up to six cases, containing up to 16 single-valve canisters (1.4 litre volume), can be installed on the aircraft at any one time allowing collection of up to 96 samples during a flight. Cases containing 8 dual-valve canisters (2 litre volume) are also available to better capture samples from fine plumes.
After their collection SWAS samples can be analysed for VOCs using the Dual-Channel Gas Chromatograph or any other suitable instrument.
For more details of canisters, their availability and suitability for each project, please contact the Instrument Scientist.
The SWAS system allows for the collection of whole air samples from the FAAM research aircraft. Samples are pressurised into the canisters up to 40 psi (dependent upon altitude). Once collected samples can be later analysed by sensitive equipment not suited to in-flight operation.
The SWAS system is serviced as and when problems arise.
Consumables
Deployment of the instrument typically requires few consumable items and generally, costs are absorbed by NCAS as part of their general maintenance.
Where faults develop with valves or individual components they will generally be repaired at no cost to the user (with the exception of damage due to misuse).
Costs
Instrument Insurance

This system must be insured by the user for £50K and covers loss, theft or damage to the instrument: damage is that over and above general wear and tear. The system has been designed to be rugged and autonomous. Even so, the end-user must respect the fact that the system is a precision optical instrument that must be treated with great care.
The user is responsible for the instrument from the time it leaves the AMOF to the time it is returned and signed off as in an acceptable operating condition by the IS: this will be done as soon as is possible on its return.

Public Liability Insurance

The AMOF is not liable for any damage or injury arising from the deployment or operation of this instrument when unattended by the IS.

Shipping Expenses

The user is liable for all costs arising from the shipping of the instrument both to and from a deployment.

IS T&S

The user is responsible for coving the travel and subsistence expenses of the IS while attending the instrument.
Shipping
One full rack of SWAS cases can be fitted to the aircraft. If other SWAS cases are required then they MUST be transported/shipped within their specially designed transport cases to help prevent damage to the component parts. Dimensions of each SWAS case is: 45 x 80 x 65 cm. weight: 30 Kg, volume: 0.24 m3
For some detachments, a vacuum pump and associated valve trigger boxes may also be required along with a small number of SWAS spares.
Total weight around 50 Kg.
Not relevant for this instrument – operates aboard the FAAM 146 aircraft.
Manual handling
The SWAS canisters are grouped together into cases for ease of installation on the aircraft. Each case is of significant size and weight and can pose a health and safety risk if handled incorrectly. Installation of the SWAS cases should only be undertaken by trained personnel and requires a minimum of two persons to be present at all times.
Electrical safety
The SWAS cases themselves carry relatively low voltage power and electrical safety risk is low.
During installation of the SWAS cases, the electrical power (supplied by the rack) should be switched off.
No attempt should be made to remove the outer covers of the electrical connections of the cases. The SWAS console fitted to the rack on board the aircraft is built to a high standard and passed BAe and Avalon Engineers safety inspection and therefore carries minimal electrical risk.
Due care and attention should be paid, however and outer covers of components should never be removed except by trained personnel.
Gas cylinders
The system requires the use of a 2 litre compressed gas cylinder. Usual care and attention should be paid when handling the cylinder.
The SWAS cases, valve control unit, compressed gas cylinder and metal bellows sample pump are all situated in one of the racks in the main cabin of the FAAM146 research aircraft.
Sample collection times and pressures are available for download after each flight.