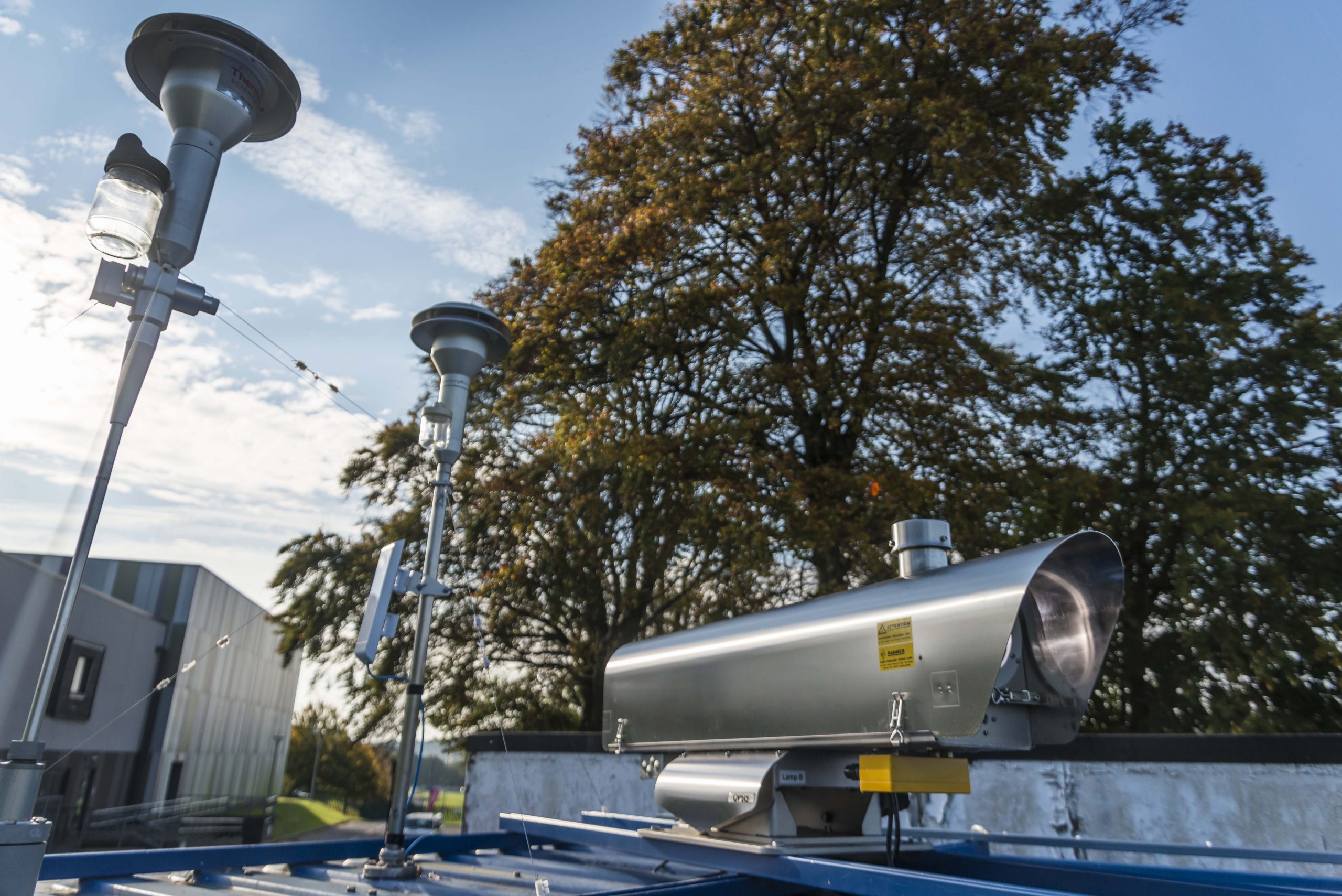 Brighton Atmospheric Observatory (BAO)
As a service to the wider community, the AMOF website "showcases" facilities that are not operated or supported by AMOF.
This is not an AMOF Observatory please do not apply to AMOF for access.
The Brighton Atmospheric Observatory (BAO)
The Brighton Atmospheric Observatory (BAO) was established in 2015 as part of the EU Joint Air Quality Initiative (JOAQUIN), the aim of which was to advance atmospheric measurement capabilities across northwest Europe, with particular focus on more health-relevant metrics, such as particle composition and ultrafine particles (UFPs).
Location
Run by the University of Brighton Centre for Earth Observation Science (CEOBs), BAO is situated in a semi-suburban environment on the edge of the city on the grounds of the university's Falmer campus (50° 51′ 37.13″ N, 0° 5′ 17.10″ W). The observatory sits with the South Downs Nation Park directly to the north, and the city of Brighton and Hove and the English Channel to the south; the city centre is roughly 4.5 km distance and the south coast, roughly 5.5 km. The South-East of the UK is a critical and strategic region for the study of tropospheric composition and air quality, having the largest regional population of the country (~9.13 million people) and being geographically located between two major air pollution hotspots, i.e. the mega-city of London and the industrial and urbanised northwest region of Europe.
Measurements
BAO is equipped with a comprehensive suite of gas- and particle-phase measurement instruments and a meteorology station, which collectively enable continuous and detailed, high time-resolution observations to be made of tropospheric and stratospheric composition. Continuous ground level gas-phase measurements of nitrogen dioxide (NO2), sulphur dioxide (SO2), ozone (O3), benzene (C6H6), formaldehyde (HCHO) and nitrous acid (HONO) are made alongside continuous particle-phase measurements of Particle Number Concentration (7 – 1,000 nm; PNC), size revolved PNC (20 – 800 nm; SRPNC), PM2.5 mass concentration and PM2.5 Black Carbon (BC) mass concentration. Surface wind speed (WS), wind direction (WD), temperature (T), relative humidity (RH), rainfall (RF) and solar radiation (SR) measurements complete the online suite. A live feed of a selection of the (unratified) continuous data can be found on the CEOBs web portal. In addition, surface volume mixing ratio and slant column density measurements of NO2, SO2, O3, HCHO, HONO, water vapour, glyoxal (C2H2O2), bromine monoxide (BrO), iodine oxide (IO) and aerosol optical depth (AOD), and zenith sky measurements for stratospheric NO2, O3 and BrO, are made on-demand.
Data produced by the Brighton Atmospheric Observatory will be of benefit for those studying tropospheric and stratospheric composition and change, fundamental tropospheric and stratospheric mechanics, and fine and ultrafine particles amongst other areas. On-demand measurements will also be of use for satellite validation. In particular, the positioning of the observatory allows for the study of interregional transport, and shipping and coastal/marine emissions.
Instrumentation
Continuous Measurements
Long-path Differential Optical Absorption Spectroscopy (LP-DOAS) (Opsis AB, Model ER120 Transceiver and System 300 Spectrometer): NO2*, SO2*, O3*, C6H6*, HCHO, HONO
Environmental Particle Counter (EPC) (TSI, Model 3783): PNC (size range = 7 – 1,000 nm)
Ultrafine Particle Monitor (UFPM) (TSI, Model 3031): SRPNC (size ranges = 20 – 30, 30 – 50, 50 – 70, 70 – 100, 100 – 200, 200 – 800 nm)
Forward light scatter laser Nephelometer (MetOne, Model ES-642): PM2.5*
Multi-Angle Absorption Photometer (MAAP) (Thermo Scientific, Model 5012): PM2.5 BC
Meteorology Station (Campbell Scientific), including helicoid four-blade propeller, potentiometer, CMOSens, tipping bucket and net radiometer: WS (Model 05103-5), WD (Model 05103-5), T (Model CS215), RH (Model CS215), RF (Model SDI-12), SR (Model NR-Lite2)
On-Demand Measurements
Multi-Axis Differential Optical Absorption Spectroscopy (MAX-DOAS) (Airyx, Model SkySpec Compact): NO2#, SO2, O3#, HCHO, HONO, H2O, C2H2O2, BrO#, IO, AOD
*MCERTS certified measurement
#Stratospheric measurement also available
Data Availability
Data is currently available on request while the archive is being transferred to the CEDA database.