Apply Now
Instrument Support Level 6
Instrument Support Level
Instrument Support Level 6
Manufacturer & Model
Metek Scanning Cloud RADAR MIRA-35
CEDA Archive Name
ncas-mobile-radar-ka-band-1
Data Products
Under Development
Insurance Value
£350,000
Physical Dimensions
300 cm x 200 cm x 210 cm. 800kg
Shipping
300 cm x 200 cm x 210 cm. 800kg
Daily Facility Charge
£70: when operating away from Chilbolton. £50: when operating at Chilbolton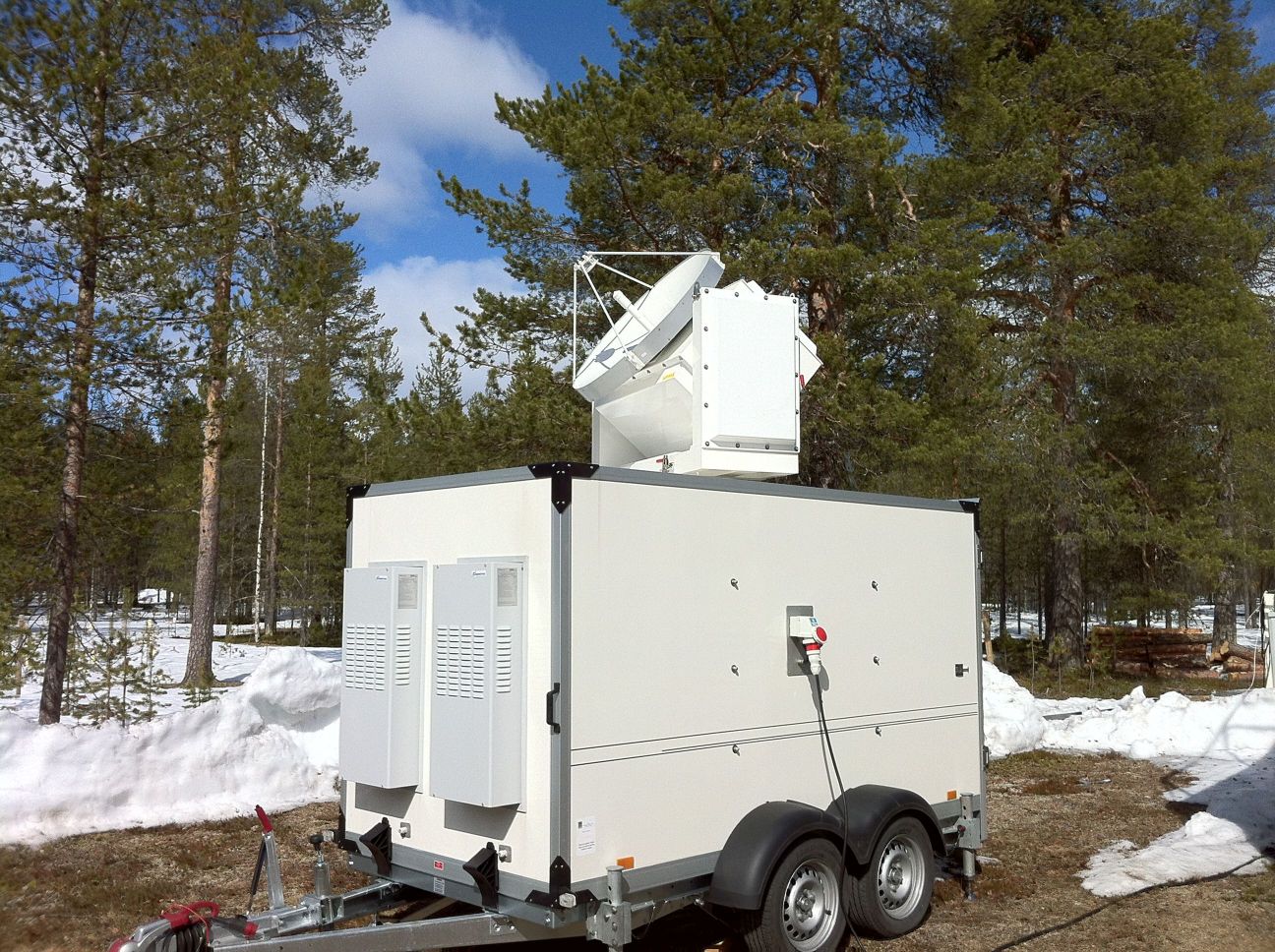 Mobile Cloud Radar
The pulsed Ka-band cloud radar MIRA-35 (formerly named MIRA-36) is unique in performance and durability and delivers a calibrated Doppler spectrum of cloud droplets in up to 1024 height steps for a vertical range between 0.2 km – 15 km at a time resolution of 10s. The wide dynamic range and the very high system sensitivity allow a tomography of cloud structures even in thin ice layer.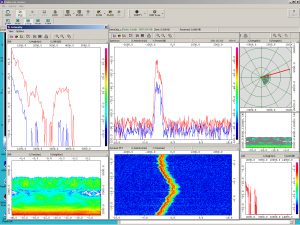 The cloud radar can be applied for research in meteorology, wake vortex monitoring, icing hazard detection, cloud particle characterization, eddy correlation fluxes, and wind shear detection.
Transmit frequency: 33 – 37 GHz, 35.2 GHz recommended by ECC
Peak power / average power: 30 kW / 30 – 60 W
Sensitivity: -53 dBZ (5 km range, 30 m range resolution and 10s time resolution, 1m antenna)
Max. measuring range: Depending on pulse width and PRF up to 60 km
Min. measuring range: 150 m full sensitivity above 450 m
Max. number of gates: 1000
Min. time resolution: 0.1s
Beam width: 0.5° with 1 m antenna
Antenna diameter: 1 m
Pulse width: 100 – 400 ns
Pulse repetition frequency: 2.5 to 10 kHz
Velocity resolution: 5 cm/s
Polarization parameters: Linear polarization on transmit, co and cross polarized signals are received simultaneously. LDR, and co – cross – correlation can be computed. Alternatively STAR mode can be provided
Dimensions of the radar electronics: Transmitter 19″ Chassis 9 U, Receiver 4U, PC 4U (depth of all units 530 mm)
Power consumption: depending on the duty cycle
Radar: 950W at 1/500 600W at 1/1000 PC+DSP 150 W
Air conditioning: 1.6 kW for the scanning system
A comprehensive overview of cloud radar theory and worldwide installations can be found at Wikipedia.
Within the UK the mobile radar requires an "OfW 225 Non-operational licence" from Ofcom. The licence has to be applied for and usually takes about 8 weeks to be granted and currently costs £50. Other countries will probably require a similar kind of licence.
The instrument scientist is responsible for monitoring the quality of the data during the deployment of the radar. The system has a number of diagnostics that allows the instrument scientist to determine if the system is operating optimally or requires manufacturer servicing and intervention. The instrument scientist will also perform standard quality control on the campaign dataset after deployment.
Consumables
Please contact the instrument scientist to discuss if any consumables are required.
Costs
Instrument Insurance

The user is responsible for the cost of insuring the instrument while on deployment: the insurance cost is £ 350K.
The user must respect the fact that the system is a precision instrument that must be treated with great care.

Public Liability Insurance

The AMOF is not liable for any damage or injury arising from the deployment or operation of this instrument when unattended by the IS.

Shipping Expenses:

The user is liable for all costs arising from the shipping of the instrument both to and from a deployment.

IS T&S

The user is responsible for coving the travel and subsistence expenses of the IS while attending the instrument.
Shipping
Please contact the instrument scientist to discuss shipping requirements.
This radar cannot be operated without the instrument scientist, or without detailed consultation with the instrument scientist. This consultation will include detailed health and safety requirements. Risk assessments must be written for any new deployment location.
In nearly all circumstances the instrument scientist will be responsible for the deployment and setup of the radar. Any user involved in the deployment must have had prior training and permission from the instrument scientist to help.
The public should remain a minimum distance of 30m from the radar due to exposure to the non-ionising radiation. People with pacemakers are particularly advised to proceed with caution in the vicinity of the radar. If possible a barrier or exclusion zone (e.g. using cones and tape) must be set up at a distance of approximately 30 m around the radar, or if this is not feasible several notices erected at all access points to the site and on approach to the radar.
The Mobile Cloud Radar requires a flat (< 10% incline) and firm piece of ground (concrete, tarmac, gravel) in a location with as few obstructions as possible to reduce the amount of ground clutter. Buildings, trees and power lines are the main obstacles.
There also needs to be good road access to the site: wide enough for the trailer and no low hanging tree branches. Security, power, visibility and internet are the four main considerations.
The radar cannot be left unattended unless security is guaranteed. The radar requires access to power and preferably an internet connection.
Electricity
Supply Voltage: 240V
Connection: Type Single-phase
Male connector: CEE 3-pole
Maximum consumption: 12 kW
Fuse of the main power distributor: 32 A
Maximum occurring residual current: 500 mA
Operating conditions
Temperature range: -10° to +35°C
Permissible operational wind load: 90 kmph (56 mph)
Trailer/Radar Specification
Weight: 800 kg
Height in transport (antenna at 0°): 3000 mm
Max height (antenna at 90°): 4250 mm
Width (supports retracted): 2000 mm
Width (supports extended): 2100 mm
Length: 2808 mm
Length including towbar: 4000 mm
Nose Weight: 120 kg
Tyres type: 225/75 R16
Tyre pressure: 5.75 bar
Field Data
The instrument produces a range of out files and all are text format.
The user can download (but not delete) this data from the instrument but it should be noted that this data will not have been quality controlled.
Archive data
Data is provided in NetCDF files following the AMF data standard
Files contain no more than 24 hours worth of data.
Instrument name is
The data product(s) associated with this instrument: