Enquiries
barbara.brooks@ncas.ac.uk
Apply Now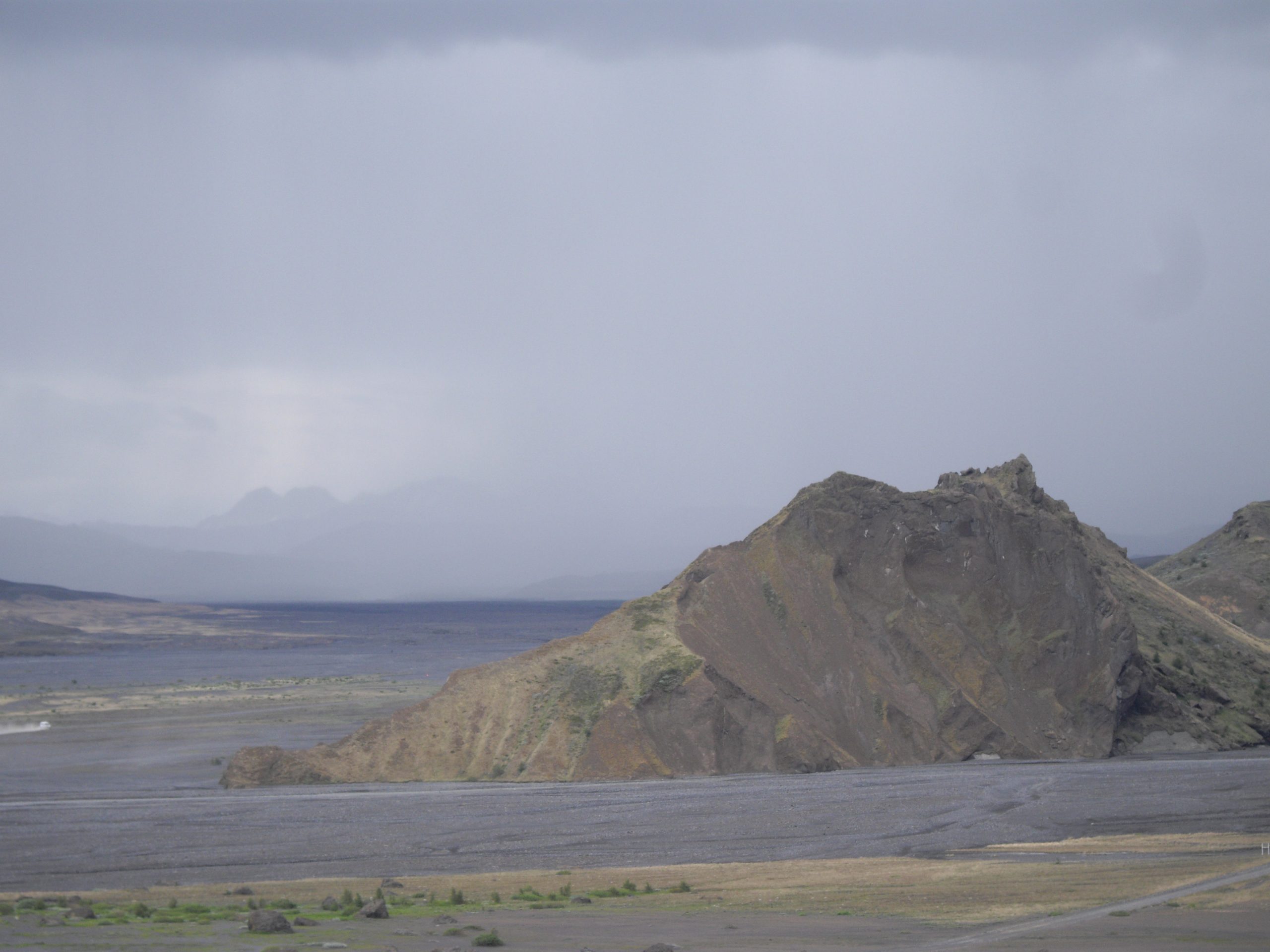 Icelandic Atmospheric Observatory (IAO)
The IAO is a mobile observatory designed to observe and monitor volcanic ash during times of both volcanic activity and rest.
During periods of unrest, its mobility is essential as it allows for it to be relocated to where its remote sensing capabilities can be best used to provide support for ash dispersal models and aviation safety.
During periods of rest, its home location is Efri Vik (63° 25′ 05.5″ N, -18° 59′ 16.9″ E).
The IAO is fitted with a 10-m mast on which is mounted an automatic weather station and two cameras pointing perpendicular to each other with views of the Grímsvötn and Bárðarbunga volcanoes and the Vik ash fields. External tripods also support a tracking sunphotometer and an all-sky camera. The trailer houses a scanning aerosol Doppler lidar with depolarisation channel, a ceilometer, and a comprehensive IT system. The latter allowing the site to be automated: data stored both locally and downloaded to UK for processing and archiving. The IT system has been designed to allow easy integration of guest instruments with control and data streaming being automated.
There are also ports in the trailer that allow sample lines and cables to be fed into the interior.
The aerosol Doppler lidar is programmed to perform a standard set of predetermined scan patterns every 10 minutes
5 point wind
RHI perpendicular to the mountain
RHI parallel to the mountain
and when not performing these scans the system stated vertically. A user can apply to run their own scanning patterns in support of a project.
The IAO is due for deployment in summer 2020.
Observatory operational status: instrument by instrument break down of instrument performance.
The instrumentation at this site measures
Surface wind speed and direction
Surface temperature
Surface humidity
Surface pressure
Precipitation
Profiles of wind speed and direction
Profiles of wind components: U, V, W
Profiles of the aerosol backscatter coefficient
Profiles of aerosol depolarization ratio
RHI & PPI scans of aerosol Backscatter coefficient
Number of cloud layers
Cloud layer base height
All-sky imagery
General imagery
Column integrated aerosol loading
Column integrated water vapour loading
Column integrated ozone concentration
Aerosol optical depth
Latitude
63° 25′ 05.5″ N
63.4182° N
Longitude
-18° 59′ 16.9″
-18.9880° E
Altitude
10 m lattice mast
Users can attach small instruments to this
External
Users can install instruments around the trailer and hook into power and data facilities.
Users can mount inlets externally and run sample lines into the trailer
Internally
The inside of the trailer is available for use by guest instrumentation.
The interior is not heated.
The trailer provides shelter against the weather but is not 100% watertight.
Power
Single-phase 240V @ 16A is available
Communication
Wifi for comms to external instruments
Two gateway servers with firewalls and external comms via 4g modems.
There are regular flights to Keflavik airport and then it is a 5hr drive to the site (approximately).
Car rental from Keflavik Airport is easy to set up.
There is a range of accommodation in the area but it should be noted that this gets booked during the tourist season.
Another option is to consider camping or a camper van – there is no restriction as to where you can camp in Iceland.
Please contact Dr Barbara Brooks to discuss all Health and Safety issues.
Consumables
If bringing in additional instrumentation then all consumables and tools for that instrumentation should be provided.
Costs
Instrument Insurance

The user must have comprehensive insurance for any kit they bring.

Public Liability Insurance

The AMOF is not liable for any damage or injury arising from the deployment or operation of this instrument when unattended by the instrument scientists.

Use of AMOF Personnel

There will be a cost for this. Please contact Instrument scientist for more details.
Shipping
The user is liable for all costs arising from the shipping of any instruments both to and from IAO.
Deliveries cannot be made to the IAO.
Access to the IAO to install guest instrumentation must be arranged through Dr Barbara Brooks
Iceland is a very safe and secure country in which to work.
The trailer itself is locked but there is full public access to the site (as with all land in Iceland). Saying that the site is within 50 m of the local police station.
Applications can be made for short term changes to the scanning pattern of the Aerosol Doppler Lidar.
Please contact Dr Babara Brooks to discuss your requirements prior to applying to AMOF