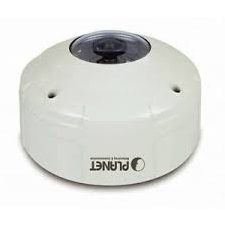 Allsky Camera
PLANET ICA-8350 3 Mega-pixel Fish-Eye IP Camera supports H.264, MPEG-4, and JPEG compression formats and delivers excellent picture quality in up to 1536 x 1536 pixels at 20 frames per second (fps). Incorporating the professional 3.4 MP-resolution sensor, the ICA-8350 provides high quality images and panorama function with quad view to enable images of monitoring and recording from four different angles to be displayed simultaneously. It offers 180° panoramic view by wall mount installation or 360° surround view in deployment of ceiling / floor / table mount. Therefore, users do not need to install multiple IP cameras and hence save tremendous installation and maintenance cost. Moreover, the IP66-rated vandalproof housing protects the ICA-8350 against rain and dust and ensures stable operation under extreme weather conditions. The ICA-8350 is an ideal solution for both indoor and outdoor surveillance applications such as buildings, hospitals, banks, hotel lobbies, garages, hallways, stores and offices, and more.
Day & Night Functionality
The ICA-8350 features an automatic, removable infrared-cut filter, which enables the camera to provide color video when there is sufficient light, and black/white video in dark conditions. The camera is able to maintain clear images 24 hours a day.
Exceptional Image Quality
Together with powerful image processing attributes like Wide Dynamic Range and 3D Digital Noise Reduction (3DNR) technology, the ICA-8350 is able to filter the intense backlight surrounding a subject and remove noises from video signal. The result is that an extremely clear and exquisite picture quality can be produced even under any challenging lighting conditions.
Camera Tampering and Audio Detection
Provided with three individually configurable motion detection zones, the ICA-8350 can record video, trigger alarms or alerts when motion is detected in specified areas. Moreover, the camera's built-in microphone enables you to hear voice from where out of the video surveillance range and to trigger the audio detection alarm when sounds like screams or glass breaking are detected.
Field Data
The instrument produces a range of image files.
The user can download (but not delete) this data from the instrument.
Archive Data
Data is provided following the NCAS-Image data standard
Instrument name is
The data product(s) associated with this instrument: