Apply Now
Instrument Support Level
Manufacturer & Model
Camera: Canon EOS 550D, Lens: Tamron AF 17-50mm f/2.8 Di-II LD Aspherical
Daily Facility Charge
Calendar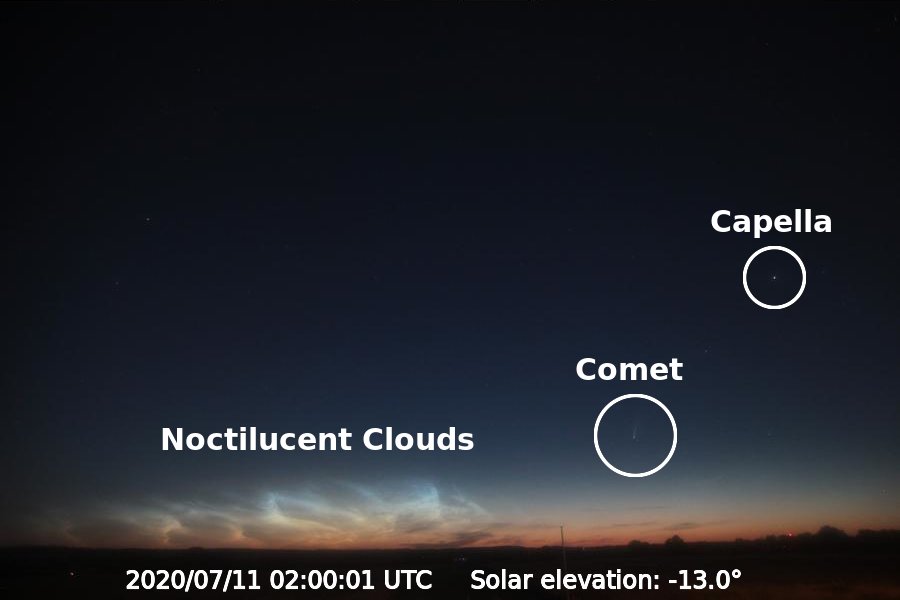 Noctilucent Cloud (NLC) Camera
The National Centre for Atmospheric Science (NCAS) Noctilucent Cloud (NLC) Camera is located within the Receive Cabin of the Chilbolton Atmospheric Observatory (CAO). It is principally operated between dusk and dawn (at 5 minute intervals) during the months of June and July. Its observations are made in support of NCAS MST Radar observations of the related phenomenon of Polar Mesosphere Summer Echoes (PMSEs).
In the image above, the comet NEOWISE can be seen as well as NLCs. The brightest star is Capella in the constellation Auriga. See the Time-Lapse Videos section below for access to an accompanying video.
Instrument details
Latitude: 51.145168°N
Longitude: -1.4397500°E
British National Grid Reference: SU3928738583
Altitude above mean sea level: 88 m
Approximate pointing azimuth angle: 12°
Approximate pointing elevation angle: 18°
Notes: the photographs taken by this camera will be made publicly available in 2020 once the NCAS image metadata standard has been finalised.